¡´ Domestic Networking, Communication and Management System
A. Distributed Monitors at the Control Center
Each one of multiple service stations set up under the monitoring system undertakes its share of monitoring tasks in accordance with the authorized account numbers assigned to it.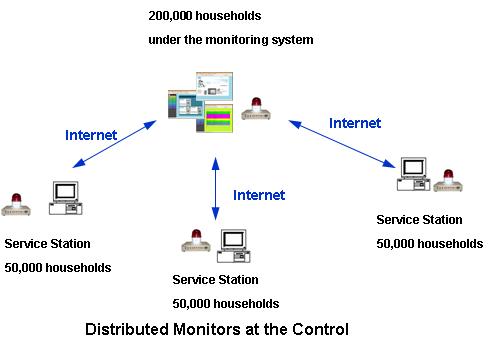 ¡´ System Diagram
¡´ The entire automatic system is composed of the following subsystems.
¡´ A security system with an access control able to generate alarms in the event of a breach.
¡´ An power system with energy-saving functionality.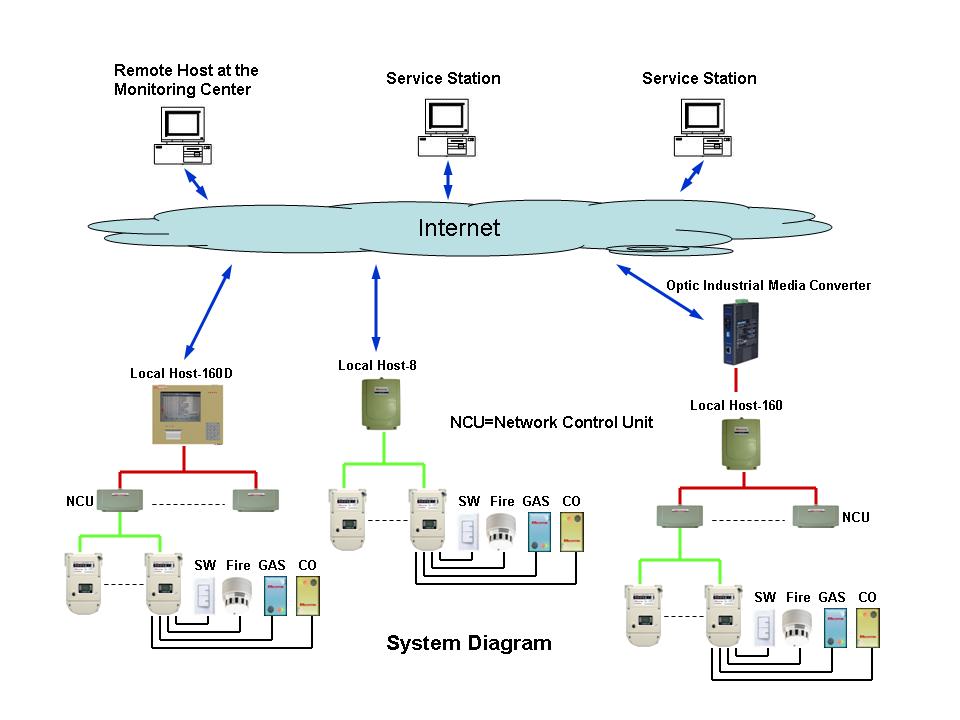 B. Local Host Monitoring Panels for Residence Buildings
In the community security guard room, a local host monitoring panel can be set up for the management and maintenance for the consumers nearby.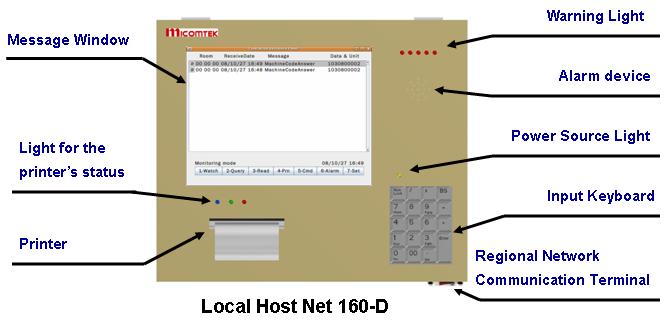 C. Communication Devices for MT-Series Micro-computer Gas Meters
Features of the devices include
¡´ Human Machine Interface
¡´ System Monitoring
¡´ Events Warning
¡´ Read Meters Data and Print Out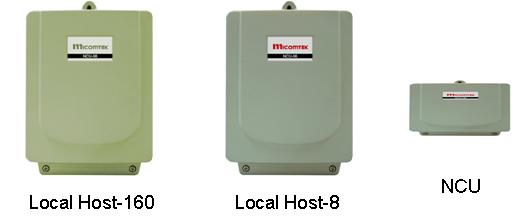 D. Hardware and Software of the Surrounding Equipment
¡´ Sound and Light Alarm Device (SLAD)
¡´ The Setting Device for Local Host NCU or the Gas Meter
Provide an on-the-spot reading, set-up and maintenance for Micro-Computer
gas meters and communication installation.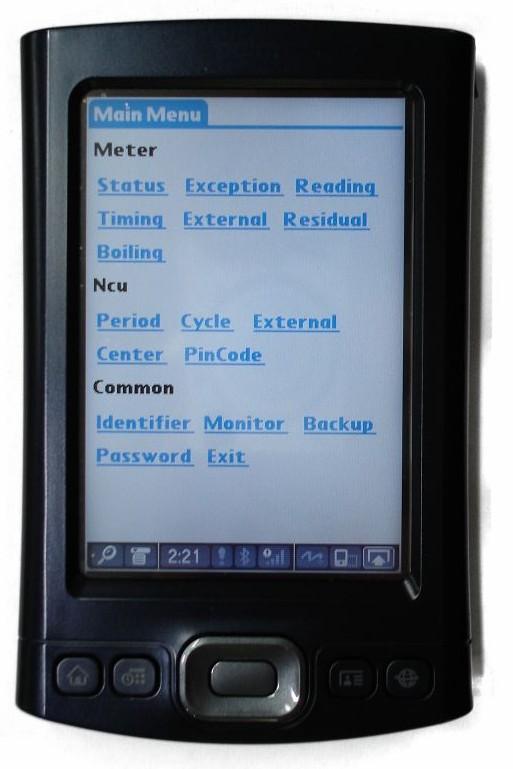 Characteristics and Product Specifications

a. Characteristics

1 .Provide on-site reading, set-up and maintenance for the micro-computer and communication installation.

2. A thin, light and elegant exterior, equipped with a large 320x480 touch-control color screen, offers clear and bright pictures at any angles and surroundings.

3. With a complete and all Chinese interface, it is simple and easy to operate. In addition, the humanity-oriented simplified operation process, enables the service personnel to perform the parameter set-up and maintenance conveniently for the computer on site.

b. Product Specifications

Memory:

128MB (97MB in practical availability)

Processor:

Intel 312MHz processor (ARM-based)

Screen:

320x480 TFT color display screen , able to provide more than 65,000 colors

Battery :

Rechargeable Li battery

Connection line:

USB synchronized connection line

Operation temperature:

0 ~ 50 deg. C

Power Source:

AC110~220V 50/60Hz

Size:

7.8cm (width) x 12.1cm (height) x 1.5cm (thickness)

Weight:

148.5 g
¡´ Software at the Control Center
¡´ Design of the Website Platform
Website platform is designed to eliminate the need for the software at all service stations, thus effectively reduces the works for the system's management upgrade and maintenance.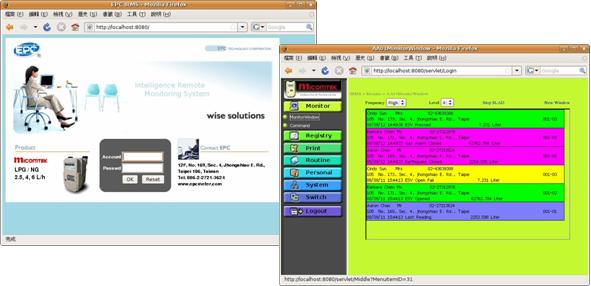 ¡´ Simple to operate and easy to learn-- The Monitoring Center uses simple pictures as the principle of design. It is easy to learn and use. The system is characterized by the following functions: (1 ) monitoring requirements, (2) information registration, (3) information printout, (4) meter-reading and (5) system management.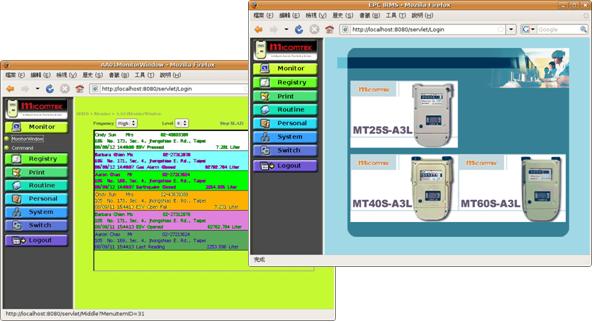 ¡´ Optical Industrial Media Converter, designed to convert Ethernet networks to fiber networks by transparently converting Ethernet signals to optic signals, has advantages of wide bandwidth, EMI immunity and long-distance transmissions, featuring
¡´ 1¡Ñ10/ 100M bps Ethernet port with RJ45 connector,
¡´ Internal jumper for Link Fault Pass-through (LEP) setting,
¡´ Full/half duplex flow control,
¡´ Store and forward transmission,
¡´ Auto-negotiation,
¡´ MDI/MDI-X auto crossover,
¡´ Surge (EFT) protection of 3,000 V DC for power line,
¡´ 4,000 V DC ethernet ESD protection,
¡´ Redundant +12-48 V DC power input,
¡´ Flexible mounting DIN-rail & Panel Mounting, and
¡´ Wide operating temperatures of -40~ 75 ¢J.
MDI=Medium Department Interface Mode

MDI-X= Medium Department Interface-X Mode

EFT=Electrically Fast Transient

ESD=Electrically Discharged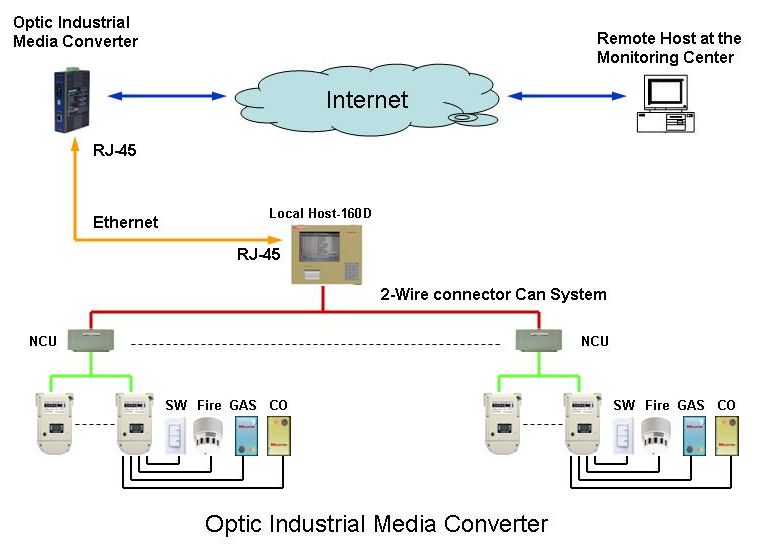 ¡´ Automatic Meter Reading and Security System¡G
Sample I ¡G
a. Local Host to Remote Host
¡´ Standard TCP/IP Interface
b. Local Host to NCU
¡´ 2-wire system

¡´ Type: CAN BUS Network

¡´ Speed: 25 Kbps
c. NCU to Gas Meters
¡´ Bus Topology

¡´ 2-wire system

¡´ Length of the wireless than 100 meters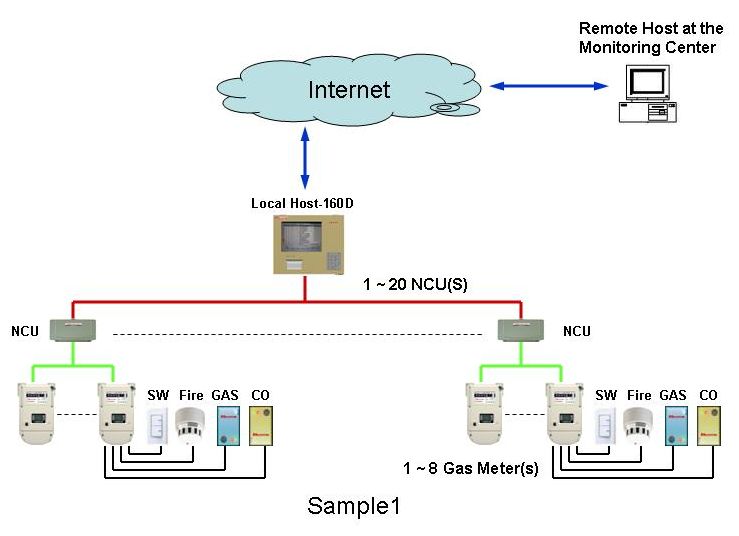 Sample II ¡G
a. Local Host to Remote Host
¡´ Standard TCP/IP Interface

¡´ Internet Network
b. Local Host to Gas Meters
¡´ 2-wire system

¡´ 9.6 Kbps Speed
c. NCU to Gas Meters
¡´ Bus Topology

¡´ 2-wire system

¡´ Length of the wire less than 100 meters